Carole Mayne

My love for capturing the light and shadow patterns with oil paints is my calling. Expressing the subtleties of color nuances and temperatures has forged my course throughout my career. Manipulating oil paint and striving for mastery of this medium has consumed my artistic intentions, experimentation, and studies.
I have painted in oils since the age of 15 and studied at the college level. Eventually I found mentors who personally taught me techniques to develop my style of blending realism and impressionism. I am grateful for all the outstanding teachers who have directly contributed to my education: Dorene Terryberry, who taught me the underpainting and glazing techniques of the Old Masters in the '70's. Dy'ans, who gave me a depth of love for painting excellence and the sea. Sebastian Capella, the late great portrait painter, teacher, and gentleman, who shapes my artistic sensibilities to this day. Andrea Gaye for her magic flying brushes, energy and impressionism. Ovanes Berberian, Ken Auster, Jeremy Lipking, Anita Hampton, Robert and Jeff Watts, for lighting up essential aspects and artistic tools. Dreama Tolle Perry brought me back to transparent oils and alla prima layering. In 2013, I dove deeply into the lineage of Richard Schmid, by studying with Daniel J. Keyes.

I retouched photographic (film) portrait negatives for 25 years 1972-1998, while studying oil painting at college level and private classes. I continue to design custom stained glass windows, and have enjoyed being involved in my art glass business since 1975.
Currently, I teach oil painting workshops for adults. I enjoy painting in my studio or outdoors, traveling with my husband, Chris, of 45 years, and take delight sharing in the lives of our two daughters, three grandsons, and a big beautiful family.
Awards:
First Place, September, 2012, SDAG.

Best of Show, Jan, Feb, & March, 2012, San Dieguito Art Guild, Offtrack Gallery, Encinitas CA
Best of Show, North Park Plein Air Competition 2010
People's Choice Award, North Park Plein Air Competition
LAPAPA 2008, Honorable Mention
Books:

"What Color is the Light?" is a booklet full of examples and explainations for understanding how to interpret the color of light and organize the palette into a sensible plan for painting with the maximum color and temperature vibration.
Chris and I had a fantastic 4-week trip to India in January 2010. To see our photo book, "Hello, India'' click on the badge to preview:
''Best Images of Birds of the Week'' is a compilation of weekly images and Inspiration by Chris and I. Click the badge below, or go to www.blurb.com, search Chris Mayne to order your own stunning edition.
To see Chris' superb avian photography portfolio, search Facebook for Chris Mayne Avian Photography.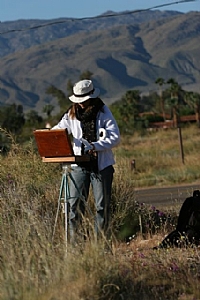 I am posting on DailyPaintworks as often as possible.